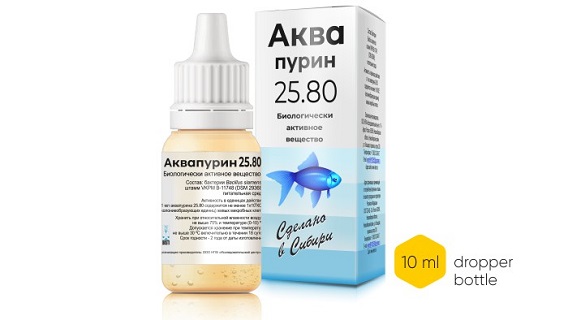 Dosage form:
 liquid.
Presentation:
 10 ml dropper bottle.
Identification:
 liquid of yellow colour, specific odour.
Composition:
 corn-steep extract fermented by
Bacillus siamensis
strain VKPM В-11748 (DSM 29368), excipients.
Indications:
 Aquapurin 25.80 is used as an additional source of probiotic microorganisms for healthy development of fish, prawns, crabs and other aquacultures.
Application:
  A health-improving effect is provided by the properties of bacteria
Bacillus siamensis
which getting into the intestine produce biological active substances, including proteolytic, amylolytic and cellulolytic enzymes; antibiotics ( mainly peptide antibiotics). The composition of intestinal microbial communities becomes in compliance with the evolutionary normal rate. Thus, it provides the qualitative processes of digestion, metabolism and the optimal functioning of the immune system. Subsequently, it increases the natural resistance to any infectious agents, chemical toxins, stresses, enhances fish juveniles survival and increases fish farm profitability.
There are not any sale restrictions for aqua products after Aquapurin 25.80 application.
Recommendations on application:
 Aquapurin is dissolved into some amount of water for better mixing with fish feed.
For fish larva:
 300 mcl of Aquapurin per 0,5 kg of feed, once a day within 12 days.
For underyearlings:
 10 mcl/kg of fish weight, five times a day.
For yearlings:
 20 mcl of Aquapurin per 1 kg of fish weight, 5-day cycle with an interval of 5 days (one cycle); total of 3 cycles.
Contraindications:
 Individual intolerance to the preparation ingredients.
Storage Conditions:
  Store at temperatures of (0 – 10)ºС.
Transportation and temporary storage at temperatures from 10ºС up to 30ºС are permitted for 18 days.
Shelf Life:
 2 years after the date of manufacture.
Do not use after the expiry date.