VoNET 8.67, VoNET 26.84
Liquid detergent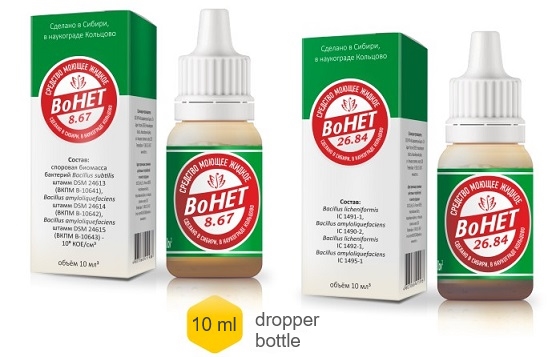 Presentation:
 10ml plastic dropper bottle; 10ml glass bottle.
Identification:
 Liquid of light yellow to dark brown colour with permissible insoluble residue. It has a peculiar odour.
Composition:
VoNET 8.67:
 herbal extract fermented by
Bacillus subtilis
strains VKPM В-10641 (DSM 24613),
Bacillus amyloliquefaciens
strains VKPM В-10642 (DSM 24614) and VKPM В-10643 (DSM 24615) – 1х10
9
CFU/g for each strain; sodium chloride, distilled water.
VoNET 26.84:
 herbal extract fermented by
Bacillus licheniformis
IC 1491-1,
Bacillus amiloliquefaciens
IC 1490-2,
Bacillus licheniformis
IC 1492-1,
Bacillus amiloliquefaciens
IC 1495-1 - 1х10
9
CFU/g for each strain, filler.
Indications:
 It is intended to remove unpleasant odour caused by putrefactive organisms in organic substances (e.g. manure, organic residues) at livestock and poultry housing, and enterprises of water and sewage services, waste deposit, street litter bins, etc.
Recommendations on application:
 Prepare the working solution (10
4
CFU/g): dissolve 10 ml (200 drops) of VoNET into 1000 liters of water or 1 drops per 5 liters.
The working solution of 10
5
CFU/g is allowed: dissolved 10 ml of VoNET into 100 liters of water.
Apply the working solution to a treated surface in any available way. The surface should be fully wetted.
When added into biological substance with an unpleasant smell, the substance and working solution should be thoroughly mixed to get a homogeneous mixture.
Note:
 To match which of the VoNET detergents is the best against these or those microbes causing unpleasant smell it's necessary to try VoNET 8.67 and VoNET 26.84 by turns.
Interaction with other cleaning products:
 Do not use products with chemical ingredients in VoNET application.
Don't produce hazardous products in interaction with any other substances. It's safe for living things.
Storage conditions:
 Store at the temperature of (0 - 10)ºС. Transportation and temporary storage at temperatures from 10ºС up to 30ºС are permitted for 18 days.
Shelf life:
 24 months from the date of manufacture. Do not use after the expiry date.