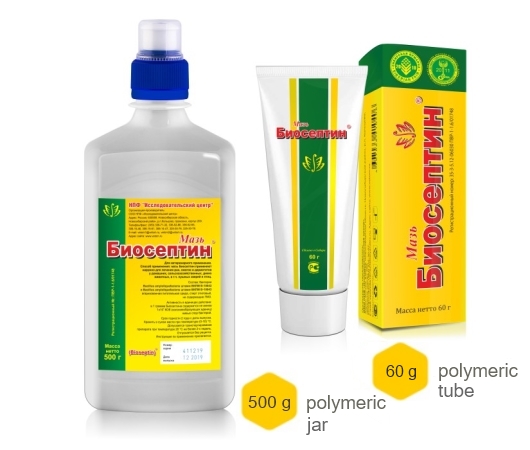 Dosage form:
 ointment.
Presentation:
 60 mg polymeric tube; 500 mg polymeric jar.
Identification:
 Uniform jelly-like mass of light yellow to yellow brown colour with the specific agar odor.
Composition:
 Bioseptin contains bacteria
Bacillus amyloliquefaciens
strains VKPM В-10642 (DSM 24614) and VKPM В-10643 (DSM 24615) - not less than 1х10
6
CFU/g; agar medium after growing these bacteria and ethyl alcohol as excipients.
Indications:
 Bioseptin is used for treatment wounds, burns and dermatitis in farm, domestic and wild animals, including birds and fur- bearing animals.
Pharmacological properties:
 Bioseptin has antiseptic, anti-inflammatory and proteolytic properties. Bacteria
Bacillus amyloliquefaciens
strains VKPM B-10642 (DSM 24614) and VKPM B-10643 (DSM 24615) contained in Bioseptin ointment cause lysis of sphacelous tissues, and act as inhibiting agents against aerobic and anaerobic gram-positive microorganisms on the wound surface; they prevent penetrating microorganisms into a wound chamber.
Method of administration:
 For external use.
Bioseptin as therapeutic agent is applied daily with a thin layer not less than once or twice a day, until healing a wound. Wounds treated by Bioseptin don't need in dressing.
Contraindications:
 No contraindications.
Side effects:
 In applying the drug according to the given instruction, side effects and complications are not observed.
Special warnings and precautions for use:
 Specific effects of Bioseptin on animals / birds in its first intake or cessation of the preparation have not been observed.
Special measures in missing one or several doses are not provided; the prophylactic / therapeutic course can be resumed without increasing.
Note:
 There are not any sale restrictions for meat and meat products after using Bioseptin.
Personal safety precautions:
 Special safety measures are not required.
Storage conditions:
 Bioseptin is transported and stored in a dry place protected from light, at 0º to 10ºС. After opening the ointment can be stored at room temperature within 15 days.
Keep out of the reach of children.
Life shelf:
 2 years after the date of manufacture. Do not use after the expiry date.